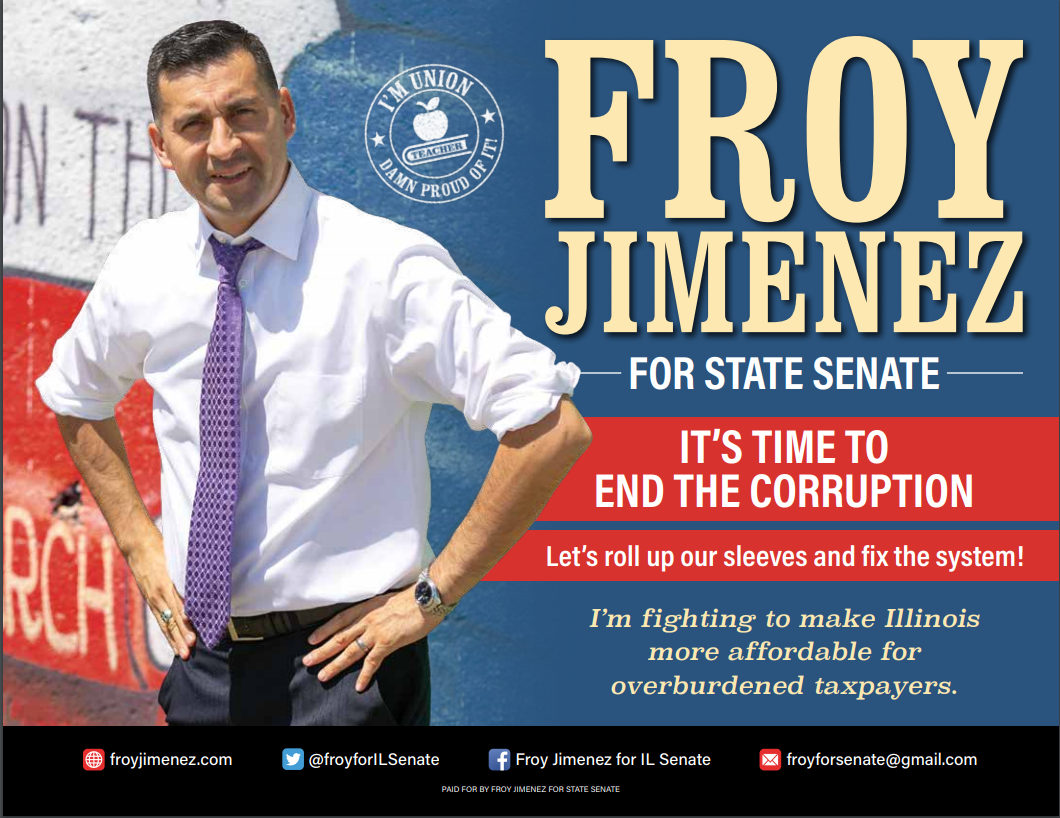 Donate to Froy's Campaign Today!
Meet Froy
Send a teacher to the Illinois Senate. Froy is a CP history teacher and coach and he has worked as a CTU Board Member and Strike Coordinator. He also has Legislative experience in Springfield where he served as a legislative aid in the house and as the Chief of Staff for "Chuy" Garcia.

As a proud Democrat and Union Member,Froy is leading the fight to end corruption in Illinois and to make our state more affordable for overburdened taxpayers. He has openly challenged Democratic party leaders when they have betrayed the public's trust and he has stood up to CTU union leaders when they mismanaged union funds.

Froy understands the challenges taxpayers and working class families are facing. As a first generation immigrant, he has work hard to put himself though college and to establish himself in the workplace. He works overtime while he and his wife raise their small children.
Froy can relate to your problems and he will fight for policies that matter in your life.
Fighting Corruption
End Career Politicians / Conflicts of Interest / Unethical Lobbying
Term Limits -- prevent career politicians from staying in power for too long, fueling a culture of corruption
Ethics Laws -- clear standards preventing elected officials from working as lobbyists or in certain industries while in office
Return to Honest Government
Transparency -- require all legislators to post on their official websites how they are spending our tax dollars, including contributions, district projects and budgets
Legislative Inspector General -- empower the accountability and ethics inspector to investigate corruption without political limitations
Helping Overburdened Taxpayers
Cut Wasteful Spending
Duplicative Government -- reduce the number of duplicative local governmental bodies that waste millions in tax dollars
Pork Projects -- distribute state fundus based on genuine need, not political clout
Limit the Tax Burden
Tax Relief -- no more excessive taxes on the people who can least afford it, including new gas taxes and red light ticketing schemes
Property Tax Reform -- honest valuations based on clear, universally applied property assessment formula and fewer reassessments
Pensions -- honor our commitments to the retirees and hold statewide hearings so taxpayers have a voice on solutions to the pension crisis
Improving Our Daily Lives
Create Accountable Police and School Boards
Empowerment -- the public should have a voice in the policies and everyday education and public safety decisions that affect their lives
Oversight -- elected representatives that can relate to taxpayer concerns about bureaucracy, wasteful spending and corruption
Help Small Business Owners and Their Employees
Create Good Paying Jobs -- simplify tax laws and provide tax incentives for small businesses to be established or move to Illinois
Reduce Bureaucracy -- create simplified procedures so small businesses do not face the same burdens as large corporations